The 50,000K Ending is unlocked when you reach a score of at least 50,000 or greater in a single game. The player will also be greeted with a Red-Eyed Irisu Kyouko when the game ends. This will unlock a small cat at the lower right corner. Clicking on it will unlock the game's Metsu mode. The photo in the directory is also changed, Age Hatori being erased.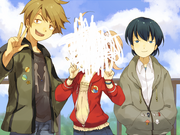 While 50,000 is the minimum score required to reach this milestone. it is possible to be shy a few points. The exact amount is unknown.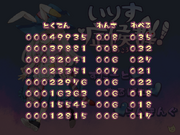 Ad blocker interference detected!
Wikia is a free-to-use site that makes money from advertising. We have a modified experience for viewers using ad blockers

Wikia is not accessible if you've made further modifications. Remove the custom ad blocker rule(s) and the page will load as expected.