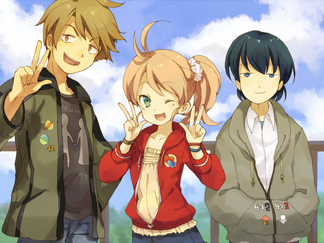 Photo.png is the first file you aquire in the game, as it comes with the game itself. It depicts three of the main characters, Edo , Age , and Uuji together. As the game progresses, the game will change the photo.
Photo Changes
Edit
After Edo disappears, he is crossed out of the picture
After Uuji disappears, he is crossed out as well.
In the bad ending, all three will be crossed out
After unlocking Metsu Mode, Age will be erased from the picture
It is said that the Metsu cheat code is hinted at in Uuji's coat.

And, In fact, It is. The cheat code being Up, Up, Up, Up, Right, Right, Down. Doing the Metsu cheat code will glith the game, however, and the Suicidal Rabbit Diary.txt will not show up in the game's file.
Ad blocker interference detected!
Wikia is a free-to-use site that makes money from advertising. We have a modified experience for viewers using ad blockers

Wikia is not accessible if you've made further modifications. Remove the custom ad blocker rule(s) and the page will load as expected.